Produced and commissioned by the Arxiu Fotogàfic de Barcelona, this exhibit shows Jacques Léonard's sincere and respectful vision of the Roma community with whom he lived after his marriage to Rosario Amaya. The images depict everyday life, the rites and traditions of the Roma communities in Barcelona and the pilgrimages to Saintes-Maries-de-la-Mer in France, between the 1950s and 1970s. The collection features selection of one of the country's most important sources on Roma related matters.
"Payo Chac, as the greater Roma family called him, found the doors open to him in all the shanty houses. Despite being an outsider, he was welcome to take photographs from inside the homes and communities. This set him apart from his avant-garde Barcelona colleagues (Català-Roca, Miserachs, Maspons, etc.). When these photographers set foot in the Roma neighbourhoods, their artistic vision always sociologically and culturally reaffirmed the Roma's outsider status. While these artists photographed the shanty houses and the Roma feeding a paternalist sentiment, denouncing the living conditions, or recording folkloric scenes, Léonard did it as an ethnologist: he documented the culture and the Roma people from a historical and contemporary standpoint, endowing them with a completely dignified image".
Jordi Calafell
Production: Arxiu Fotogràfic de Barcelona
Curator: Jordi Calafell
Technical File
67 photographs, current analogue prints made from the photographer's original negatives, partitioned and framed.
43 photos (68.5 x 58.5 cm)
24 photos (40.5 x 40.5 cm)
Photo captions and introductory text in digital format
A 6'33'' documentary piece directed by Yago Léonard and produced by Enric Fibla is available based on parts of the documentary El payo Chac produced by Curt Ficcions Curt Produccions. Requires equipment to play the film.
Boda de La Lorenza i El Chele. Montjuïc. Barcelona, 1960
Somorrostro. Barcelona, 1958
Somorrostro. Barcelona, ca.1960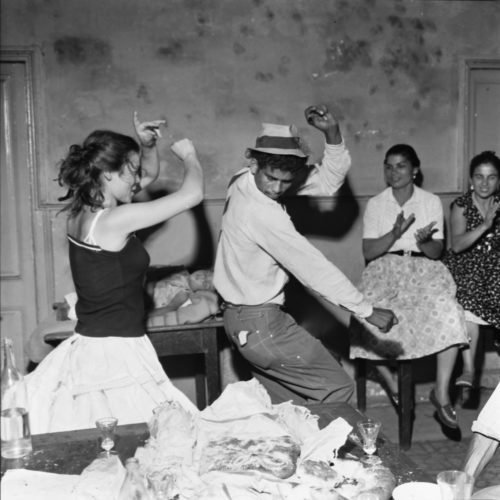 Revetlla de Sant Joan a la bodega Ca la Rosita. Avinguda del Paral·lel. Barcelona, ca. 1960