©Juan Amaya. Montserrat, 1958
Jacques Léonard, (Paris, 1909 – L'Escala, 1994)
 Jacques Léonard was 43 years old when he definitively moved to Barcelona to work as a professional photographer.   His lifestyle ended up taking him across the world as a result of his different activities.
He was the son of a Roma horse dealer and the owner of a needlework workshop in Paris, and he got involved in the cinema world at a young age. In 1931 he started working by taking on commissions in certain Parisian studios before later working on film editing and production tasks collaborating with different directors including Abel Gance.
1940. He travelled to Spain searching for locations for a film about Christopher Columbus which fell through due to the war in Europe. He met the then director of cinematography who offered him the opportunity to work on different tasks and he stayed in Madrid.    .
1949. He moved to Barcelona with the theatre entrepreneur Arthur Kaps, becoming his right-hand man.  Later, far removed from film, he made a living restoring furniture.
He met the comedian Robert Lamouret and worked as his secretary on a world tour. He accompanied Lamouret to England, Australia, Greece and Italy. At the end of the tour he declined the opportunity to travel to the United States.
1952. He moved to Barcelona where he fell in love with Rosario Amaya, a Roma woman who worked as an artist's model. He married Amaya and started working as a freelance photographer.
…
Francesc Català-Roca gave him contacts and tasks in different media outlets: 
La Vanguardia, La Gaceta Ilustrada, Pomezia, 
the publication of the Bishopric of Barcelona, 
Sant Jordi
, the journal of the Provincial Council of Barcelona, and he set up his own lab working on advertising photography.
1975. After Barcelona's Roma neighbourhoods were dismantled, Léonard moved to La Mina and left photography behind due to health problems, working on a book about Roma culture, Les quatre fers en l'air. The project remained unpublished in spite of the initial interest from the Plon publishing house in Paris which specialised in ethnology.
1991. With serious health problems, he moved to L'Escala, where he died in 1994.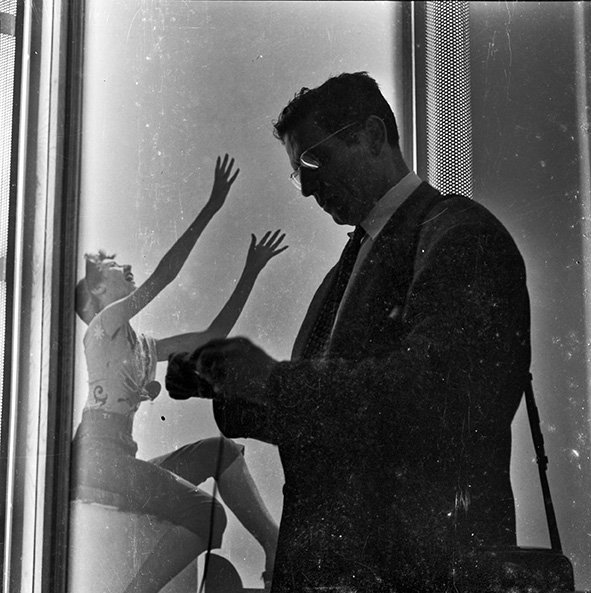 © Author and location unknown, ca. 1940
©Autor and location unknown. Splicing film. ca. 1940